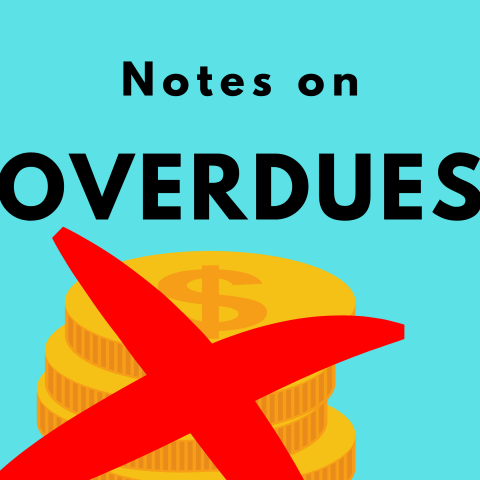 ***This is an old new item, please see our homepage for updated information***
We recognize how frustrating it is for patrons to have to hold onto items for weeks, then have to battle crowds of vehicles to reach the bookdrops during the small window of time we have them open. The problem is, libraries are set up around the idea that everyone has to share all of the stuff the library purchases. By policy, we have to check items out to you and we have to have due dates on those items. This means that, eventually, if those items are not returned, they become overdue.
To help alleviate the stress of this time, we have made a few policy changes.
100% of our items are now fine-free. This means there will be no daily overdue fines on any item checked out in Sun Prairie.
We will not send email notifications reminding you that things are late. Nobody wants to be reminded that they have to drive to the library and sit in line for 20 minutes at the bookdrop. Plus, we don't have fines, so who cares if it's returned late? Not us!
We are not sending any "lost item" accounts to our material recovery service. Yes, we contract with a "collections agency" to help us retrieve lost material. But we aren't contracting with them at all for the rest of 2020. Hang onto your stuff, and if it becomes "lost", call us and we'll fix it!
Renewals, overrides, etc. We can easily EASILY override limitations on renewals. We can and we will. So don't hesitate to call or email and request an extension of your item loan.
Emergency returns will be located in our lobby every day the bookdrops are closed, during Express Service hours. Yes, these emergency returns are garbage bins on wheels. That's just how we roll.
Unfortunately, there are a few things we cannot change.
You will still get a "pre-overdue" notice two days before an item comes due. This notice is automated and cannot be changed or stopped due to limitations in the software we use. DO NOT PANIC if you get a notice. It's just a friendly reminder to either renew your item or contact us for other options. It doesn't mean you have to return the item right away and it doesn't mean you'll be charged fines or fees!
It also still takes us several steps to check things in, so if you look at your account and see an overdue item that you returned, please be patient! It can sometimes take up to 5 days to get things checked in.
As always, if you have questions, please contact the library. We're here to help!