Find all the news about Teen events at Sun Prairie Public Library on Facebook!
  And on Instagram too!
Applications are available in the Teen Zone. Teens must return their own application in person to the Children's Desk no later than 5:00 p.m. on Sunday, May 6, 2018. If selected from the applicant pool, you will be contacted by the Teen Librarian no later than May 11th to schedule an interview. Only 5-6 volunteers will be accepted to assist with this year's summer library program, so schedule compatibility and reliable transportation will be considered. Thank you for your interest!
What's Coming Up??
All American Boys Book & Author Discussion!
Thursday, April 26, 6:00-7:00 p.m.
Let's talk about All American Boys by Jason Reynolds and Brendan Kiely! Snacks provided. This program is exclusively for teens in grades 6-12.
Adults welcome only if accompanied by a teen.
Teen Movie Night
Thursday, May 3, 6:00-8:30 p.m.
Exclusively for teens in 6th-12th grade! Teen Movie Night is the first Thursday of each month, Jan-May, at 6:00-8:30 p.m. in the Community Room. Popcorn provided. Movie will be PG or PG-13. We will vote on a movie at the event.
Teen Book Club
Saturday, May 5, 2:00-3:30 p.m.
Books! Snacks! Fun! Teen Book Club is the first Saturday of each month, Jan-May, at 2:00-3:30 p.m. Just for teens in grades 6 through 12! New members are always welcome. We meet in the Library Conference Room.
For May 5, we are reading The Knife of Never Letting Go by Patrick Ness. Copies are available at the Children's Desk. 
Teen Board Gaming
Thursday, May 10, 6:00-8:00 p.m.
Board game fun for teens in 6th-12th grade! Play games, or create your own! We have snacks! We meet on the second Thursday of each month, Jan-May, from 6:00-8:00 p.m. in the Library Community Room.
And lots of other great programs--watch here for details about our 2018 Summer Library Program--Libraries Rock!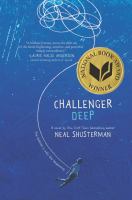 Great Teen Reads - Teen Book Lists
Don't know what to read next? Check out one of our many different books lists for ideas!
Have an idea for a new teen program? Call or email Melissa!
608-825-0701 or mcarollo@sunlib.org
 
Last Updated: Apr 23, 2018