Drive-thru Window
Window Hours
Sundays 1:30pm - 4:30pm and during posted weather emergencies
The drive-thru window is available for contactless, no-appointment pickup every Sunday afternoon. To pick up at the window, place a hold in LINKcat. When you receive notice that your hold is available, drive to the library and into the driveway that leads past the bookdrops. Follow the signs to the service window that has been installed in the porch.
We also will offer drive-up service as a replacement for Curbside Pickup during posted weather emergencies.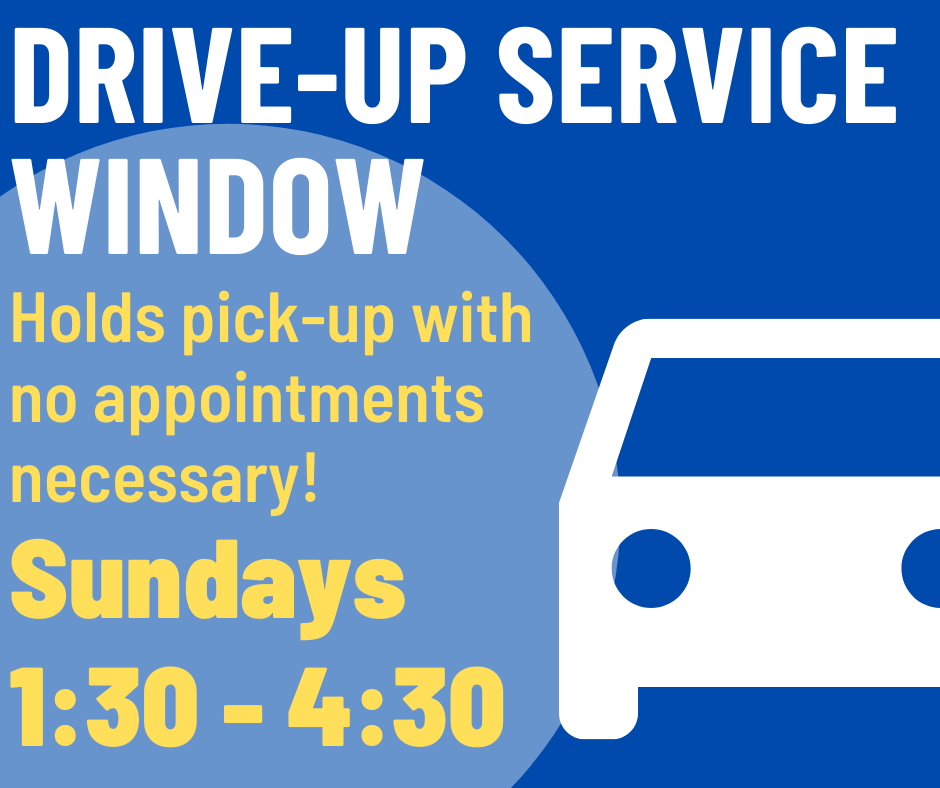 Pick-ups will take around 5 minutes per vehicle, so if 2 cars are in front of you, expect to wait 15 minutes before you have your holds in hand.
Say Hello at the Window!
Staff is on-site, but not immediately next to the window, so please drive up and say hello into the intercom
Staff will greet you and ask for your card number and name
After confirming your hold availability, staff will pull your hold and check it out
Please roll your window up and wait for staff to place item(s) on shelf
Staff will step away from the window
Roll your window down and pick up your items
Drive away carefully, yielding to traffic from the right
NOTE: The only service offered at the drive-thru window is holds pickup. Returns can be placed in the drive-up return slots prior to visiting us at the window!
For questions about other services, please contact us.