Are you looking for a new book to read or listen to? Check out these recommendations from our staff!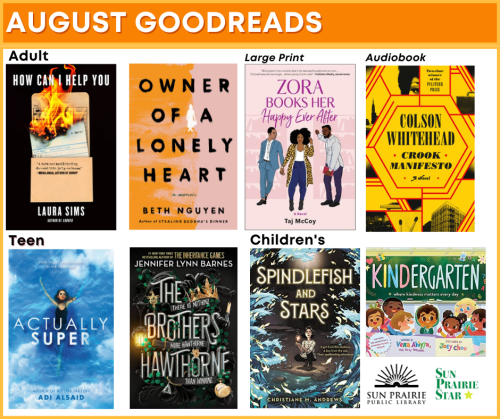 Fiction
"How Can I Help You" by Laura Sims
No one knows Margo's real name. Her colleagues and patrons at a small-town public library only know her middle-aged normalcy, congeniality, and charm. They have no reason to suspect that she is, in fact, a former nurse with a trail of countless premature deaths in her wake. She has turned a new page, so to speak, and the library is her sanctuary, a place to quell old urges.

That is, at least, until Patricia, a recent graduate and failed novelist, joins the library staff. Patricia quickly notices Margo's subtly sinister edge, and watches her carefully. When a patron's death in the library bathroom gives her a hint of Margo's mysterious past, Patricia can't resist digging deeper—even as this new fixation becomes all-consuming.

Taut and compelling, How Can I Help You explores the dark side of human nature and the dangerous pull of artistic obsession as these "transfixing dual female narrators" (Kimberly McCreight) hurtle toward a stunning climax.  -From the publisher
"Family Lore" by Elizabeth Acevedo
Flor has a gift: she can predict, to the day, when someone will die. So when she decides she wants a living wake—a party to bring her family and community together to celebrate the long life she's led—her sisters are surprised. Has Flor foreseen her own death, or someone else's? Does she have other motives? She refuses to tell her sisters, Matilde, Pastora, and Camila.
But Flor isn't the only person with secrets: her sisters are hiding things, too. And the next generation, cousins Ona and Yadi, face tumult of their own.
Spanning the three days prior to the wake, Family Lore traces the lives of each of the Marte women, weaving together past and present, Santo Domingo and New York City. Told with Elizabeth Acevedo's inimitable and incandescent voice, this is an indelible portrait of sisters and cousins, aunts and nieces—one family's journey through their history, helping them better navigate all that is to come.  -From the publisher  Also available in large print and audio CD
Nonfiction
"What an Owl Knows" by Jennifer Ackerman
For millennia, owls have captivated and intrigued us. Our fascination with these mysterious birds was first documented more than thirty thousand years ago in the Chauvet Cave paintings in southern France. With their forward gaze and quiet flight, owls are often a symbol of wisdom, knowledge, and foresight. But what does an owl really know? And what do we really know about owls? Though our fascination goes back centuries, scientists have only recently begun to understand in deep detail the complex nature of these extraordinary birds. Some two hundred sixty species of owls exist today, and they reside on every continent except Antarctica, but they are far more difficult to find and study than other birds because they are cryptic, camouflaged, and mostly active in the dark of night.
Jennifer Ackerman illuminates the rich biology and natural history of these birds and reveals remarkable new scientific discoveries about their brains and behavior.  -From the publisher 
"Owner of a Lonely Heart" by Bich Minh Nguyen
At the end of the Vietnam War, when Beth Nguyen was eight months old, she and her father, sister, grandmother, and uncles fled Saigon for America. Beth's mother stayed—or was left—behind, and they did not meet again until Beth was nineteen. Over the course of her adult life, she and her mother have spent less than twenty-four hours together.
Owner of a Lonely Heart is a memoir about parenthood, absence, and the condition of being a refugee: the story of Beth's relationship with her mother. Framed by a handful of visits over the course of many years—sometimes brief, sometimes interrupted, sometimes with her mother alone and sometimes with her sister—Beth tells a coming-of-age story that spans her own Midwestern childhood, her first meeting with her mother, and becoming a parent herself. Vivid and illuminating, Owner of a Lonely Heart is a deeply personal story of family, connection, and belonging: as a daughter, a mother, and as a Vietnamese refugee in America.
-From the publisher  Also available in audio CD
Large Print
"Zora Books Her Happy Ever After" by Taj McCoy
Zora has committed every inch of her life to establishing her thriving DC bookstore, making it into a pillar of the community, and she just hasn't had time for romance. But when a mystery author she's been crushing on for years agrees to have an event at her store, she starts to rethink her priorities. Lawrence is every bit as charming as she imagined, even if his understanding of his own books seems just a bit shallow. When he asks her out after his reading, she's almost elated enough to forget about the grumpy guy who sat next to her making snide comments all evening. Apparently the grouch is Lawrence's best friend, Reid, but she can't imagine what kind of friendship that must be. They couldn't be more different.
But as she starts seeing Lawrence, and spending more and more time with Reid, Zora finds first impressions can be deceiving. Reid is smart and thoughtful—he's also interested. After years of avoiding dating, she suddenly has two handsome men competing for her affection. But even as she struggles to choose between them, she can't shake the feeling that they're both hiding something—a mystery she's determined to solve before she can find her HEA.  -From the publisher  Also available in audio CD
"Empress of the Nile" by Lynne Olson
In the 1960s, the world's attention was focused on a nail-biting race against time: Fifty countries contributed nearly a billion dollars to save a dozen ancient Egyptian temples, built during the height of the pharaohs' rule, from drowning in the floodwaters of the massive new Aswan High Dam. But the extensive press coverage at the time overlooked the gutsy French archaeologist who made it all happen. Without the intervention of Christiane Desroches-Noblecourt, the temples would now be at the bottom of a vast reservoir. It was an unimaginably large and complex project that required the fragile sandstone temples to be dismantled, stone by stone, and rebuilt on higher ground.
A willful real-life version of Indiana Jones, Desroches-Noblecourt refused to be cowed by anyone or anything. During World War II she joined the French Resistance and was held by the Nazis; in her fight to save the temples she challenged two of the postwar world's most daunting leaders, Egypt's President Nasser and France's President de Gaulle. As she told a reporter, "You don't get anywhere without a fight, you know."  -From the publisher
Audiobooks
"Crook Manifesto" by Colson Whitehead
It's 1971. Trash piles up on the streets, crime is at an all-time high, the city is careening towards bankruptcy, and a shooting war has broken out between the NYPD and the Black Liberation Army. Amidst this collective nervous breakdown furniture store owner and ex-fence Ray Carney tries to keep his head down and his business thriving. His days moving stolen goods around the city are over. It's strictly the straight-and-narrow for him — until he needs Jackson 5 tickets for his daughter May and he decides to hit up his old police contact Munson, fixer extraordinaire.  But Munson has his own favors to ask of Carney and staying out of the game gets a lot more complicated – and deadly.  -From the publisher Also available in large print
"Hungry Ghosts" by Kevin Jaren Hosein
Trinidad in the 1940s, nearing the end of American occupation and British colonialism. On a hill overlooking Bell Village sits the Changoor farm, where Dalton and Marlee Changoor live in luxury unrecognizable to those who reside in the farm's shadow. Down below is the Barrack, a ramshackle building of wood and tin, divided into rooms occupied by whole families. Among these families are the Saroops—Hans, Shweta, and their son, Krishna, all three born of the barracks. Theirs are hard lives of backbreaking work, grinding poverty, devotion to faith, and a battle against nature and a social structure designed to keep them where they are.
But when Dalton goes missing and Marlee's safety is compromised, farmhand Hans is lured by the promise of a handsome stipend to move to the farm as a watchman. As the mystery of Dalton's disappearance unfolds, the lives of the wealthy couple and those who live in the barracks below become insidiously entwined, their community changed forever and in shocking ways.  -From the publisher
Teen
"The Brothers Hawthorne" by Jennifer Lynn Barnes
Four brothers. Two missions. One explosive read. Jennifer Lynn Barnes returns to the world of her #1 bestselling Inheritance Games trilogy, and the stakes have never been higher. 
Grayson Hawthorne was raised as the heir apparent to his billionaire grandfather, taught from the cradle to put family first. Now the great Tobias Hawthorne is dead and his family disinherited, but some lessons linger. When Grayson's half-sisters find themselves in trouble, he swoops in to do what he does best: take care of the problem—efficiently, effectively, mercilessly. And without getting bogged down in emotional entanglements.
Jameson Hawthorne is a risk-taker, a sensation-seeker, a player of games. When his mysterious father appears and asks for a favor, Jameson can't resist the challenge. Now he must infiltrate London's most exclusive underground gambling club, which caters to the rich, the powerful, and the aristocratic, and win an impossible game of greatest stakes. Luckily, Jameson Hawthorne lives for impossible.
Drawn into twisted games on opposite sides of the globe, Grayson and Jameson—with the help of their brothers and the girl who inherited their grandfather's fortune—must dig deep to decide who they want to be and what each of them will sacrifice to win.—from the publisher
"Actually Super" by Adi Alsaid
Isabel is having an existential crisis. She's three years into high school, and everything she's learned has only shaken her faith in humanity. Late one night, she finds herself drawn to a niche corner of the internet—a forum whose members believe firmly in one thing: that there are indeed people out in the world quietly performing impossible acts of heroism. You might even call them supers. No, not in the comic book sense—these are real people, just like each of us, but who happen to have a power or two. If Isabel can find them, she reasons, she might be able to prove to herself that humanity is more good than bad.
So, the day she turns 18, she sets off on a journey that will take her from Japan to Australia, and from Argentina to Mexico, with many stops along the way. She longs to prove one—just one—super exists to restore her hope for the future. Will she find what she's looking for? And how will she know when—if—she does?—from the publisher
Children's
"KINDergarten" by Vera Ahiyya and Joey Chou
It's the first day of Kindergarten and Leo isn't at all ready. Leo is a quiet kid and would prefer to stay home. Over the summer, his new teacher, Ms. Perry sent a letter asking her students to think about how to show kindness in school. She explained that they would be making a kindness pledge, and each student should bring one way to show kindness on the first day.
 
As it turns out, Leo's classmates have lots of ideas about kindness: like raising your hand, never leaving anyone out, and apologizing if you hurt someone's feelings. At the end of the first day, Ms. Perry asks if anyone witnessed something they'd like her to add to the kindness pledge? Lots of hands shoot up in the air. Several classmates say they noticed Leo returning crayons to the box, holding the door for everyone, and helping a friend who fell. Leo smiles as he realizes he really does know a lot about kindness after all. – From the publisher
"Spindlefish & Stars" by Christiane M. Andrews
We all make sacrifices for those we love -- but how much would you give up to find a lost family member? Clo, a young girl, embarks on a journey to a peculiar island per the instructions of her absent father. On this island, she meets an old woman and is put to work creating a tapestry, which holds secrets of its own. As Clo unravels the true nature of the island, she must decide how much sacrifice those she loves are worth, even if it costs her part of herself. – From Jenna, age 11
This book wasn't like any book I've ever read before. The whole thing wasn't one continuous story; it was several short stories packed into one book, with funny personality tests and Choose Your own Adventure-style readings in between each one. Plus, the author really exaggerated all of the worries everyone has these days ("Am I good enough? Do people like me? Am I pretty? Am I popular?"), and twisted them into hilarious stories! That's why I love this book. – From Alisha, age 9