Programs
We offer a variety of programs for all ages! Please check the events calendar for all program dates, our Youth Services Facebook page for updates and information, and our YouTube Channel for our full archive of videos. 
 
Young Critics Book Club
Image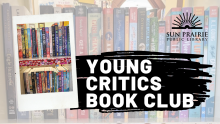 Please visit the Young Critics Book Club page to read more about it!
Young Explorers Club 
NEW in 2022! Young Explorers Club will be for ages 4-8.

Registration is required. You will have to register for each event individually.
This club will meet twice a month in the summer, and we'll explore different animals, eco systems, habitats, and more! This program will meet in-person in the community room. Space will be limited. Children can be left with the librarian as long as they are registered. For any questions, problems registering, or for more information, please email Sammy: snieman@sunlib.org or call the Children's Desk: 608-825-0701
Summer 2022:
Thursday, June 16 at 2:30 OR 4 PM
Thursday, June 30 at 2:30 OR 4 PM
Thursday, July 14 at 2:30 OR 4 PM
Thursday, July 28 at 2:30 OR 4 PM
Flicks & Bricks
Watch a movie & build with LEGO®s! Fun for the whole family! Registration recommended. Movies TBD. 
Summer 2022:
Wednesday, June 8 at 10 AM and 1 PM
Tuesday, July 5 at 10 AM and 1 PM
Thursday, July 21 at 10 AM and 1 PM
Gaming with Sammy On Zoom 
Image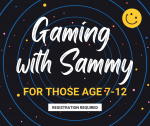 Sammy wants to play Among Us, Gartic Phone, and Jackbox Games! Game with Sammy on Zoom. Registration required and space is limited. This program is for those who are 7-12 years old. 

Summer 2022: 
Friday, June 10 at 1 PM
Friday, June 24 at 1 PM
Friday, July 8 at 1 PM
Friday, July 22 at 1 PM
Additional Activities
Image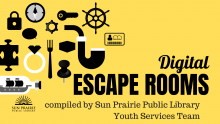 Love Escape Rooms? We've compiled someDigital Escape Rooms here! Give them a try!
Image




All Library Programs Are Free And Open to the Public 
Children and adults participating in Sun Prairie Public Library programs may be photographed by newspaper or television reporters/photographers, library staff members, or others involved with the program. These photographs may appear without compensation in newspapers or productions, publications, on the web, or other printed or electronic materials related to the role and function of the Sun Prairie Public Library. Parents who do not want their children photographed should notify Lynn Montague, Head of Youth Services, before the program starts.