Image

Become a Friend Today!
Your membership with the Friends of the Library helps to support the Sun Prairie Library financially and in other important ways. You'll like being our Friend!
NEW!  You can now join or renew your membership online!
> Click here for the Online Membership Form (to join or renew your membership)
> Or, click here for a printable form
 
RECRUITING FOR ADULT BOARD MEMBERS!
Are you interesting in serving as a board member for the Friends of the Sun Prairie Library? The Friends are actively seeking new board members to bring fresh and diverse perspectives and help us grow our community, and we want YOU!
What does a Friends board member do? Please read through the Friends Board Member Volunteer Job Description to find out. If you are interested in applying to serve on the Friends board, please fill out this Questionnaire for Prospective Board Members and return it to the Sun Prairie Library. Questions? Please email us.
 
... AND JUNIOR BOARD MEMBERS!
The Friends Board has created two new positions for high school students to become junior board members. Do you know someone who might be interested? Please take a look at the Junior Board Member Job Description. Interested students can fill out the Junior Director Application and return it to the Sun Prairie Library or scan and email it to sunlibraryfriends@gmail.com.
___________________________
Friends of the Sun Prairie Public Library Sculpture Project
Image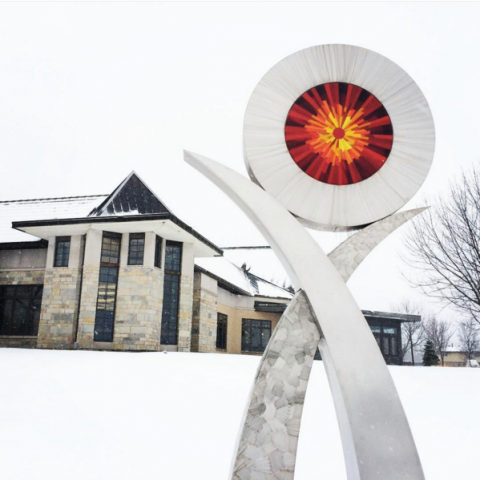 "Sun Prairie" is a stainless steel sculpture with fused glass rounds, located on the southeast corner of the library grounds. On September 9, 2016, the sculpture was given to the library, by the Friends of the Library, at a dedication ceremony featuring the Wisconsin Brass Quintet. The sculpture was designed by Dale Rogers of Haverhill, Massachusetts.
ANNUAL MEETING - 11/14/22
The Friends of the Sun Prairie Public Library will be holding their Annual Meeting on Monday, November 14th at 6:00pm in the library's Community Room. A light meal will be served prior to the meeting, at 5:30pm. All Friends members are encouraged to attend! If you plan to attend, please RSVP by November 9th to Friends staff liaison, Erin Williams Hart, at 608-825-0902 or ewilliamshart@sunlib.org.
If you are unable to attend the Annual Meeting put wish to participate in the voting process, please print out, complete and return this Proxy Form to the library. Proxy forms must be received by November 9th.
In preparation for the Annual Meeting, we encourage you to read through the Annual Meeting packet, which includes the agenda for the meeting and items that will be discussed and voted on during the meeting.
 
Learn more about the Friends:

Read our 2022 Annual Newsletter
Connect with us on Facebook 

__________________________
Make a Donation
Your donation to the Friends supports Sun Prairie Library programs, collections and other services.
Click below to make a one-time donation in any amount through PayPal.
(Note: To join or renew your Friends membership, please use the Online Membership Form instead.)
___________________________
The Read Before Book Store is Sun Prairie's only used book shop. Gently used items in the store include contemporary fiction and non-fiction, classics, biographies, paperbacks, VHS tapes, DVDs, music CDs, vinyl, comic books, and more!
Bookstore Hours*
Monday:
10am - 6pm
Tuesday:
10am - 6pm
Wednesday:
10am - 6pm
Thursday:
10am - 6pm
Friday:
10am - 4pm
Saturday:
10am –12pm
Sunday:
CLOSED
*Please note: hours subject to change