November Great Reads
Image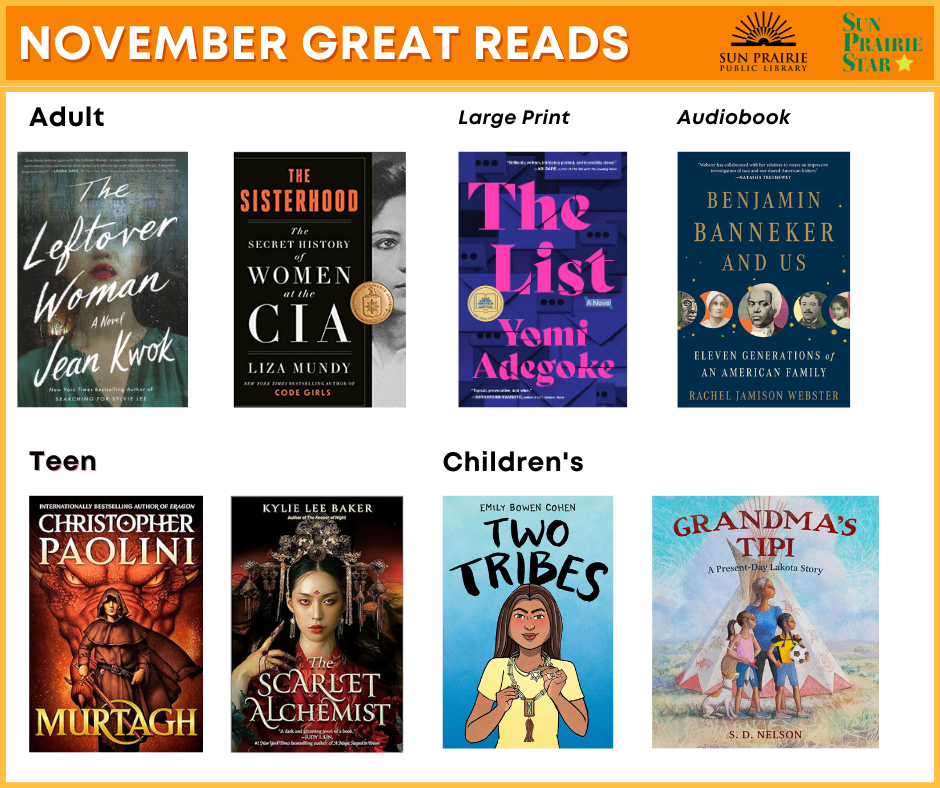 Fiction
"The Leftover Woman" by Jean Kwok
Jasmine Yang arrives in New York City from her rural Chinese village without money or family support, fleeing a controlling husband, on a desperate search for the daughter who was taken from her at birth—another female casualty of China's controversial One Child Policy. But with her husband on her trail, the clock is ticking, and she's forced to make increasingly risky decisions if she ever hopes to be reunited with her daughter.
Meanwhile, publishing executive Rebecca Whitney seems to have it all: a prestigious family name and the wealth that comes with it, a high-powered career, a beautiful home, a handsome husband, and an adopted Chinese daughter she adores. She's even hired a nanny to help her balance the demands of being a working wife and mother. But when an industry scandal threatens to jeopardize not only Rebecca's job but her marriage, this perfect world begins to crumble and her role in her own family is called into question. —from the publisher
"North Woods" by Daniel Mason
When two young lovers abscond from a Puritan colony, little do they know that their humble cabin in the woods will become the home of an extraordinary succession of human and nonhuman characters alike. An English soldier, destined for glory, abandons the battlefields of the New World to devote himself to growing apples. A pair of spinster twins navigate war and famine, envy and desire. A crime reporter unearths an ancient mass grave—only to discover that the earth refuse to give up their secrets. A lovelorn painter, a sinister con man, a stalking panther, a lusty beetle: As the inhabitants confront the wonder and mystery around them, they begin to realize that the dark, raucous, beautiful past is very much alive. —from the publisher
Also available in large print
Nonfiction
"How to Say Babylon" by Safiya Sinclair
Throughout her childhood, Safiya Sinclair's father, a volatile reggae musician and militant adherent to a strict sect of Rastafari, became obsessed with her purity, in particular, with the threat of what Rastas call Babylon, the immoral and corrupting influences of the Western world outside their home. He worried that womanhood would make Safiya and her sisters morally weak and impure, and believed a woman's highest virtue was her obedience.
 
In an effort to keep Babylon outside the gate, he forbade almost everything. In place of pants, the women in her family were made to wear long skirts and dresses to cover their arms and legs, head wraps to cover their hair, no make-up, no jewelry, no opinions, no friends. Safiya's mother, while loyal to her father, nonetheless gave Safiya and her siblings the gift of books, including poetry, to which Safiya latched on for dear life. And as Safiya watched her mother struggle voicelessly for years under housework and the rigidity of her father's beliefs, she increasingly used her education as a sharp tool with which to find her voice and break free. Inevitably, with her rebellion comes clashes with her father, whose rage and paranoia explodes in increasing violence. As Safiya's voice grows, lyrically and poetically, a collision course is set between them. —from the publisher
Also available on audio CD
"The Sisterhood" by Liza Mundy
Created in the aftermath of World War II, the Central Intelligence Agency relied on women even as it attempted to channel their talents and keep them down. Women sent cables, made dead drops, and maintained the agency's secrets. Despite discrimination—even because of it—women who started as clerks, secretaries, or unpaid spouses rose to become some of the CIA's shrewdest operatives.
 
They were unlikely spies—and that's exactly what made them perfect for the role. Because women were seen as unimportant, pioneering female intelligence officers moved unnoticed around Bonn, Geneva, and Moscow, stealing secrets from under the noses of their KGB adversaries. Back at headquarters, women built the CIA's critical archives—first by hand, then by computer. And they noticed things that the men at the top didn't see. As the CIA faced an identity crisis after the Cold War, it was a close-knit network of female analysts who spotted the rising threat of al-Qaeda—though their warnings were repeatedly brushed aside.
Propelled by the same meticulous reporting and vivid storytelling that infused Code Girls, "The Sisterhood" offers a riveting new perspective on history, revealing how women at the CIA ushered in the modern intelligence age, and how their silencing made the world more dangerous. —from the publisher
Large Print
"The List" by Yomi Adegoke
Ola Olajide, a celebrated journalist at "Womxxxn" magazine, is set to marry the love of her life in one month's time. Young, beautiful, and successful—she and her fiancé Michael are considered the "couple goals" of their social network and seem to have it all. That is, until one morning when they both wake up to the same message: "Oh my god, have you seen The List?" 

It began as a crowdsourced collection of names and somehow morphed into an anonymous account posting allegations on social media. Ola would usually be the first to support such a list—she'd retweet it, call for the men to be fired, write article after article. Except this time, Michael's name is on it. —from the publisher
"Build the Life You Want" by Arthur Brooks and Oprah Winfrey
Arthur C. Brooks and Oprah Winfrey invite you to begin a journey toward greater happiness no matter how challenging your circumstances. Drawing on cutting-edge science and their years of helping people translate ideas into action, they show you how to improve your life right now instead of waiting for the outside world to change.
With insight, compassion, and hope, Brooks and Winfrey reveal how the tools of emotional self-management can change your life―immediately. They recommend practical, research-based practices to build the four pillars of happiness: family, friendship, work, and faith. And along the way, they share hard-earned wisdom from their own lives and careers as well as the witness of regular people whose lives are joyful despite setbacks and hardship. —from the publisher


Audiobooks

"Benjamin Banneker and Us" by Rachel Jamison Webster
In 1791, Thomas Jefferson hired a Black man to help survey Washington, DC. That man was Benjamin Banneker, an African American mathematician, a writer of almanacs, and one of the greatest astronomers of his generation. Banneker then wrote what would become a famous letter to Jefferson, imploring the new president to examine his hypocrisy, as someone who claimed to love liberty yet was an enslaver. More than two centuries later, Rachel Jamison Webster, an ostensibly white woman, learns that this groundbreaking Black forefather is also her distant relative.
Acting as a storyteller, Webster draws on oral history and conversations with her DNA cousins to imagine the lives of their shared ancestors across eleven generations, among them Banneker's grandparents, an interracial couple who broke the law to marry when America was still a conglomerate of colonies under British rule. These stories shed light on the legal construction of race and display the brilliance and resistance of early African Americans in the face of increasingly unjust laws, some of which are still in effect in the present day. —from the publisher

"Flipping Boxcars" by Cedric Kyles
Babe is a charismatic and widely loved man, a gambler with a gift for gab that often gets him out of tricky situations. He's also a dreamer, something he shares with his patient and loving wife, Rosie. They both yearn for financial stability and see the land they own as insurance for future generations. But when Babe and a few comrades enlist in a scheme that improbably falls apart, he endangers the little security the family has. 
On the verge of losing everything, what's a family man to do?  If you're a gambler like Babe, you double down and risk it all for one big score—this time, a plan involving railroad boxcars. —from the publisher
Teen
"Murtagh" by Christopher Paolini
Master storyteller and internationally bestselling author Christopher Paolini returns to the World of Eragon in this stunning epic fantasy set a year after the events of the Inheritance Cycle. Join Dragon Rider—and fan favorite—Murtagh and his dragon as they confront a perilous new enemy!

The world is no longer safe for the Dragon Rider Murtagh and his dragon, Thorn. An evil king has been toppled, and they are left to face the consequences of the reluctant role they played in his reign of terror. Now they are hated and alone, exiled to the outskirts of society. Throughout the land, hushed voices whisper of brittle ground and a faint scent of brimstone in the air—and Murtagh senses that something wicked lurks in the shadows of Alagaësia. So begins an epic journey into lands both familiar and untraveled, where Murtagh and Thorn must use every weapon in their arsenal, from brains to brawn, to find and outwit a mysterious witch. A witch who is much more than she seems.—from the publisher
 
"The Scarlet Alchemist" by Kylie Lee Baker
Zilan dreams of becoming a royal alchemist, of providing for her family by making alchemical gold and gems for the wealthy to eat in order to stay young forever. But for now, she's trapped in her impoverished village in southern China, practicing an illegal form of alchemy to keep food on the table—resurrecting the dead, for a price.

When Zilan finally has the chance to complete her imperial exams, she ventures to the capital to compete against the best alchemists in the country in tasks she'll be lucky to survive, let alone pass. On top of that, her reputation for raising the dead has followed her to the capital, and the Crown Prince himself seeks out her help, suspecting a coming assassination attempt. The more Zilan succeeds in her alchemy, the more she gets caught in the dangerous political games of the royal family. There are monsters lurking within the palace walls, and it's only a matter of time before they—and secrets of Zilan's past—catch up with her.—from the publisher
Children's
"Grandma's Tipi: A Present-Day Lokota Story" by S.D. Nelson
Now that Clara is almost in third grade, she's finally old enough to spend her first summer away from home visiting her grandma, Unci, and her cousin at their home in Standing Rock Reservation. To welcome her visit, Uncle Louie brings an extra-special surprise in his pickup truck: the tipi that's been passed down through their family for generations.
The girls learn how to stack the poles and wrap the canvas covering around them, how to paint spirit pictures on its walls, and how the circle of the tipi tells its own story, reminding us how to live in the great Circle of Life. Over long days spent playing outside, doing beadwork together, telling stories, singing songs, and sleeping under the stars, the tipi brings the family closer together. – from Abrams Books
"Two Tribes" by Emily Bowen Cohen
Mia is still getting used to living with her mom and stepfather, and to the new role their Jewish identity plays in their home. Feeling out of place at home and at her Jewish day school, Mia finds herself thinking more and more about her Muscogee father, who lives with his new family in Oklahoma. Her mother doesn't want to talk about him, but Mia can't help but feel like she's missing a part of herself without him in her life.
Soon, Mia makes a plan to use the gifts from her bat mitzvah to take a bus to Oklahoma—without telling her mom—to visit her dad and find the connection to her Muscogee side she knows is just as important as her Jewish side. – from Harper Collins
"Dogtown" by Katherine Applegate and Gennifer Choldenko
Dogtown is a shelter for stray dogs, misbehaving dogs, and discarded robot dogs, whose owners have outgrown them.

Chance, a real dog, has been in Dogtown since her owners unwittingly left her with irresponsible dog-sitters who skipped town.

Metal Head is a robot dog who dreams of being back in a real home.

And Mouse is a mouse who has the run of Dogtown, pilfering kibble, and performing clever feats to protect the dogs he loves.

When Chance and Metal Head embark on an adventure to find their forever homes, there is danger, cheese sandwiches, a charging station, and some unexpected kindnesses along the way. – from Feiwel & Friends