Are you looking for a new book to read or listen to? Check out these recommendations from our staff!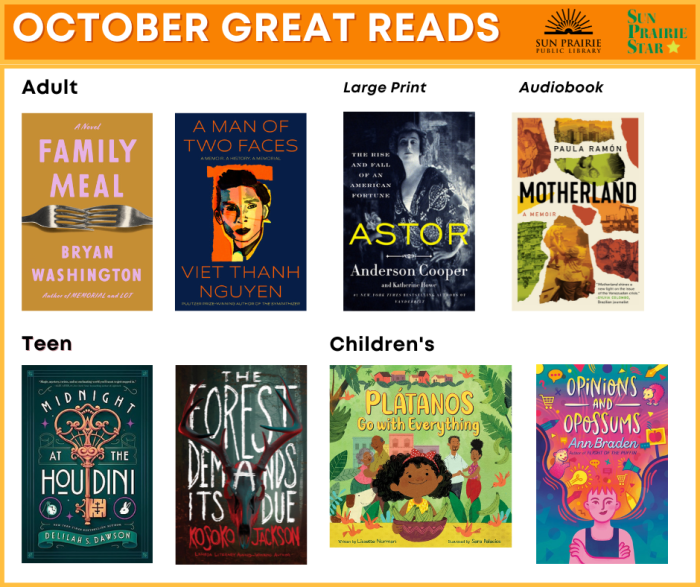 Fiction
"Family Meal" by Bryan Washington
Cam is living in Los Angeles and falling apart after the love of his life has died. Kai's ghost won't leave Cam alone; his spectral visits wild, tender, and unexpected. When Cam returns to his hometown of Houston, he crashes back into the orbit of his former best friend, TJ, and TJ's family bakery. TJ's not sure how to navigate this changed Cam, impenetrably cool and self-destructing, or their charged estrangement. Can they find a way past all that has been said – and left unsaid – to save each other? Could they find a way back to being okay again, or maybe for the first time?
When secrets and wounds become so insurmountable that they devour us from within, hope and sustenance and friendship can come from the most unlikely source. Spanning Los Angeles, Houston, and Osaka, "Family Meal" is a story about how the people who know us the longest can hurt us the most, but how they also set the standard for love. With his signature generosity and eye for food, sex, love, and the moments that make us the most human, Bryan Washington returns with a brilliant new novel. —from the publisher   
"One Puzzling Afternoon" by Emily Critchley
It is 1951, and at number six Sycamore Street fifteen-year-old Edie Green is lonely. Living alone with her eccentric mother - who conducts séances for the local Ludthorpe community - she is desperate for something to shake her from her dull, isolated life.
When the popular, pretty Lucy Theddle befriends Edie, she thinks all her troubles are over. But Lucy has a secret, one Edie is not certain she should keep . . .
Then Lucy goes missing.
2018. Edie is eighty-two and still living in Ludthorpe. When one day she glimpses Lucy Theddle, still looking the same as she did at fifteen, her family write it off as one of her many mix ups. There's a lot Edie gets confused about these days. A lot she finds difficult to remember. But what she does know is this: she must find out what happened to Lucy, all those years ago. —from the publisher   
Nonfiction
"In the Form of a Question" by Amy Schneider
In eighth grade, Amy was voted "Most likely to appear on Jeopardy!" by her classmates. Decades later, this trailblazer finally got her chance. Not only did she walk away with $1.3 million while captivating the world with her impressive forty-game winning streak, but she made history and won an even greater prize—the joy of being herself on national television and blazing a trail for openly queer and transgender people around the world. Now, she shares her singular journey that led to becoming an unlikely icon and hero to millions. Her super power: Boundless curiosity and fearless questioning.
"In the Form of a Question" explores some of the innumerable topics that have fascinated Amy throughout her life—books and music, Tarot and astrology, popular culture and computers, sex and relationships—but they all share the same purpose: to illustrate, and celebrate, the results of a lifetime spent asking, why? —from the publisher   
"A Man of Two Faces" by Viet Thanh Nguyen
At the age of four, Nguyen and his family are forced to flee his hometown of Ban Mê Thuột and come to the USA as refugees. After being removed from his brother and parents and homed with a family on his own, Nguyen is later allowed to resettle into his own family in suburban San José. But there is violence hidden behind the sunny façade of what he calls AMERICA™. One Christmas Eve, when Nguyen is nine, while watching cartoons at home, he learns that his parents have been shot while working at their grocery store, the SàiGòn Mới, a place where he sometimes helps price tins of fruit with a sticker gun. Years later, as a teenager, the blood-stirring drama of the films of the Vietnam War such as Apocalypse Now throw Nguyen into an existential crisis: how can he be both American and Vietnamese, both the killer and the person being killed? When he learns about an adopted sister who has stayed back in Vietnam, and ultimately visits her, he grows to understand just how much his parents have left behind. And as his parents age, he worries increasingly about their comfort and care, and realizes that some of their older wounds are reopening.
Profound in its emotions and brilliant in its thinking about cultural power, "A Man of Two Faces" explores the necessity of both forgetting and of memory, the promises America so readily makes and breaks, and the exceptional life story of one of the most original and important writers working today. —from the publisher   
Large Print
"Astor" by Anderson Cooper
The story of the Astors is a quintessentially American story—of ambition, invention, destruction, and reinvention.
From 1783, when German immigrant John Jacob Astor first arrived in the United States, until 2009, when Brooke Astor's son, Anthony Marshall, was convicted of defrauding his elderly mother, the Astor name occupied a unique place in American society.
The family fortune, first made by a beaver trapping business that grew into an empire, was then amplified by holdings in Manhattan real estate. Over the ensuing generations, Astors ruled Gilded Age New York society and inserted themselves into political and cultural life, but also suffered the most famous loss on the Titanic, one of many shocking and unexpected twists in the family's story.
In this unconventional, page-turning historical biography, featuring black-and-white and color photographs, #1 New York Times bestselling authors Anderson Cooper and Katherine Howe chronicle the lives of the Astors and explore what the Astor name has come to mean in America—offering a window onto the making of America itself. —from the publisher   
"Camp Zero" by Michelle Min Sterling
In a near-future northern settlement, the fates of a young woman, a professor, and a mysterious collective of researchers collide in this mesmerizing and transportive debut that "delivers its big ideas with suspense, endlessly surprising twists, and abundant heart" (Jessamine Chan, New York Times bestselling author).
In remote northern Canada, a team led by a visionary American architect is break­ing ground on a building project called Camp Zero, intended to be the beginning of a new way of life. A clever and determined young woman code-named Rose is offered a chance to join the Blooms, a group hired to entertain the men in camp—but her real mission is to secretly monitor the mercurial architect in charge. In return, she'll receive a home for her climate-displaced Korean immigrant mother and herself.
Rose quickly secures the trust of her target, only to discover that everyone has a hidden agenda, and nothing is as it seems. Through skill­fully braided perspectives, including those of a young professor longing to escape his wealthy family and an all-woman military research unit struggling for survival at a climate station, the fate of Camp Zero's inhabitants reaches a stunning crescendo.SEE LESS —from the publisher  Also available in audio CD.
Audiobooks
"Motherland" by Paula Ramón
From Venezuelan reporter Paula Ramón comes a powerful memoir about one woman's complicated relationship with her family as her beloved homeland collapses into ruin.
In the span of a generation, oil-rich Venezuela spiraled into a dire state of economic collapse. Reporter Paula Ramón experienced the crisis firsthand as her middle-class family saw their quality of life deteriorate.
Public services no longer functioned. Money lost its value. Her mother couldn't afford to buy food, which was increasingly scarce. The once-prosperous country fell into ruin. Like many others, Ramón's family struggled to survive each day in their beloved city, Maracaibo—until, one by one, they each made the unbearable choice to leave the home they love.
In the end, it was Ramón's mother, a widow, who stayed behind, loyal to the only home she'd ever known. In this heartbreaking mix of lived experience, family chronicle, and journalistic essay, Paula Ramón explores the anguish of her own relationships set against the staggering collapse of a country. —from the publisher   
"Judgment Prey" by John Sandford
Alex Sand was spending the evening at home playing basketball with his two young sons when all three were shot in cold blood. A wealthy federal judge, there's no short list of people who could have a vendetta against Sands, but the gruesome murders, especially that of his children, turn their St. Paul community on its head. Sand was on the verge of a major donation to a local housing charity, Heart/Twin Cities, and with the money in limbo, eyes suddenly turn to his grieving widow, Margaret Cooper, to see what she might do with the money. Margaret, distraught over the death of her family, struggles to move forward, and can't imagine how or why anyone would target her husband.

With public pressure mounting and both the local police force and FBI hitting dead end after dead end, Lucas Davenport and Virgil Flowers are called in to do what others could not: find answers. With each potential lead flawed, Davenport and Flowers are determined to chase every theory until they figure out who killed the Sands. But when they find themselves being stonewalled by the most unlikely of forces, the two wonder if perhaps each misdirection could lead them closer to the truth. —from the publisher   Also available in large print.
Teen
"Midnight at the Houdini" by Delilah S. Dawson
Life has gone according to plan for Anna—she stays in the background, letting her sister, Emily, shine in the spotlight. But on Emily's wedding night, Anna learns that her sister is moving away, abandoning her—and all their shared dreams. Devastated, Anna leaves the reception in the middle of a raging storm, taking shelter in a hotel she's never seen before: the Houdini.
The Houdini is a hotel unlike any other, with sumptuous velvet couches, marble tiled floors, secret restaurants, winding passageways, and an undercurrent of magic in the air. And when Anna meets Max, who has lived his entire life inside its walls, she's captivated. For the first time in her life, Anna is center stage, in a place that anticipates her every desire, with a boy who only has eyes for her. But there's a terrifying secret hidden in the Houdini. When the clock strikes midnight, Anna will be trapped there forever unless she can find a way to break free from its dreamlike magic. But will she be able to do it if it means leaving Max behind? Enchanting, mysterious, and utterly fantastic, "Midnight at the Houdini" will cast its spell on you.—from the publisher
"The Forest Demands Its Due" by Kosoko Jackson
Regent Academy has a long and storied history in Winslow, Vermont, as does the forest that surrounds it. The school is known for molding teens into leaders, but its history is far more nefarious.
Seventeen-year-old Douglas Jones wants nothing to do with Regent's king-making; he's just trying to survive. But then a student is murdered and, for some reason, by the next day no one remembers him having ever existed, except for Douglas and the groundskeeper's son, Everett Everley. In his determination to uncover the truth, Douglas awakens a horror hidden within the forest, unearthing secrets that have been buried for centuries. A vengeful creature wants blood as payment for a debt more than 300 years in the making—or it will swallow all of Winslow in darkness. And for the first time in his life, Douglas might have a chance to grasp the one thing he's always felt was missing: power. But if he's not careful, he will find out that power has a tendency to corrupt absolutely everything.—from the publisher.
Children's
"Plátanos Go with Everything" by Lissete Norman and Sarah Palacios
Plátanos are Yesenia's favorite food. They can be sweet and sugary, or salty and savory. And they're a part of almost every meal her Dominican family makes. 
Stop by her apartment and find out why plátanos go with everything—especially love!—from the publisher.
"Omega Morales and the Legend of the La Lechuza" by Laekan Zea Kemp
Is La Lechuza a story or is she real? That is what Omega and her cousin, Carlitos, are trying to find out because the town thinks the monster of La Lechuza is preying on their pet cats. The town wants to attack but Omega thinks there is more to what is happening. – from Jenna, age 11
"Opinions and Opossums" by Ann Braden
Agnes has been encouraged not to question authority by her mom—but that's especially hard in religion class, where it bugs her that so much gets blamed on Eve and that God's always pictured one way. Fortunately, Agnes' anthropologist neighbor, Gracy, gets Agnes thinking after they rescue an opossum together. Playing dead didn't serve the opossum well, so maybe it's time for Agnes to start thinking for herself. And when Agnes learns that some cultures picture God as a female, she feels freed to think—and write—about things from new perspectives. As she and her best friend, Mo, encourage each other to get out of their comfort zone at school as the quiet kids, they quickly find it's sorta cool seeing people react when they learn you are very much full of thought-provoking opinions. Ann Braden has written a fast-paced, funny novel that will resonate with anyone who's ever been afraid to say what they think or question the status quo.—from the publisher.