The 2021 Adult Summer Reading Program has concluded. Thank you to all who participated!
June 1 - August 31, 2021
Track your reading and other activities via Beanstack. As you log your reading and activities, you earn "badges" and enter to win prizes.
Are you ready to get started? Click here or download the "Beanstack Tracker" mobile app to begin! 


Pre-registration will open on Monday, May 24th.
Note: If you have participated in a Reading Program in the last year in which you created a Beanstack account, you do not need to create a new account. Simply look for the Adult Summer Reading Program option when logged into your account, and click "Register."
About the Summer Reading Program:
-All adults ages 18+ are encouraged to participate!
-Read long books, short books, audiobooks, e-books, print books, adult books or teen books. If you need ideas for books to read, we have lots of booklists to get you started.
-Earn digital "badges" for logging reading time and doing other fun activities.
-Every badge you earn also gives you tickets to enter into raffle drawings* for Summer Reading Prizes, including gift cards to some great local shops and, yes, places to buy yourself more books!
*Drawings for all prizes will be held at the end of the Summer Reading Program. Winners will be notified by telephone or email on or after September 1st, and must pick up their prizes at the library.
 
Have questions about the Summer Reading Program or need help with your Beanstack account?
Adult Services staff are ready to help you!
Call the Information Desk at 825-0702 or email us at sunref@sunlib.org.
If you are not able to participate online, please ask us for a paper reading log. Return the paper log when you are done or before the end of the Summer Reading Program to be entered into the prize drawings!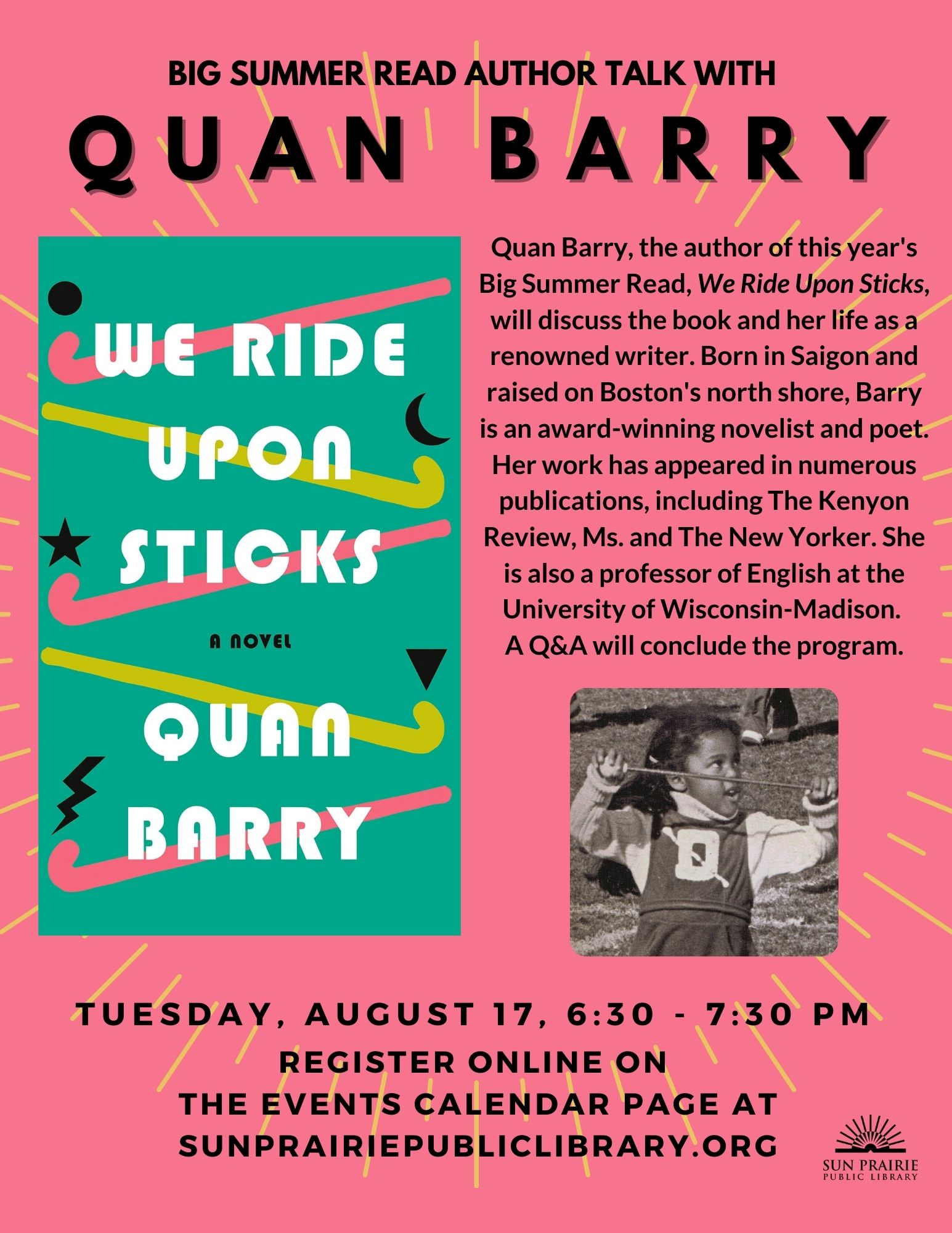 Big Summer Read
This summer, along with our adult reading program, we are holding a Big Summer Read! Our selected book is We Ride Upon Sticks by Madison author Quan Barry. We invite you to read with your friends... and with us!
How can I read the book?
Copies of the book may be available in the library (check the Buzz Books!), or through Overdrive or Hoopla. Need help finding a copy? Call the Information Desk (825-0702) or email us at sunref@sunlib.org. And, we'll be giving away copies of the book to two lucky people who pre-register or register in the first week for the Adult Summer Reading Program!
About the Book

"In a story filled with friendship, femininity and '80s iconography, Barry will keep you laughing with every turn of the page." —TODAY
In the town of Danvers, Massachusetts, home of the original 1692 witch trials, the 1989 Danvers Falcons girls' hockey team will do anything to make it to the state finals—even if it means tapping into some devilishly dark powers. Quan Barry expertly weaves together the individual and collective progress of this enchanted team as they storm their way through an unforgettable season. The Falcons prove to be wily, original, and bold, flaunting society's stale notions of femininity as they charge past every obstacle on the path to finding their glorious true selves.
"Spellbinding, wickedly fun. . . . Each sentence fizzes like a just-opened bottle of New Coke." —O, The Oprah Magazine
"Riotously entertaining. . . . A witty, unruly ode to female empowerment and camaraderie." —The Capital Times
Named on Best Books of 2020 lists by NPR, TIME, Book Riot, and Kirkus Reviews
Summer programs, inspired by the novel:
6/1 - Quick with Sticks: UW Women's Hockey
7/13 - Trial by Fire
8/17 - Author visit: Quan Barry
Book discussions for We Ride Upon Sticks will be held on 7/11 and 8/19.
(All programs will be held via Zoom. Click on a date above to register for a program. Zoom link will be sent to registrants by email.)