Are you looking for a new book to read or listen to? Check out these recommendations from our staff!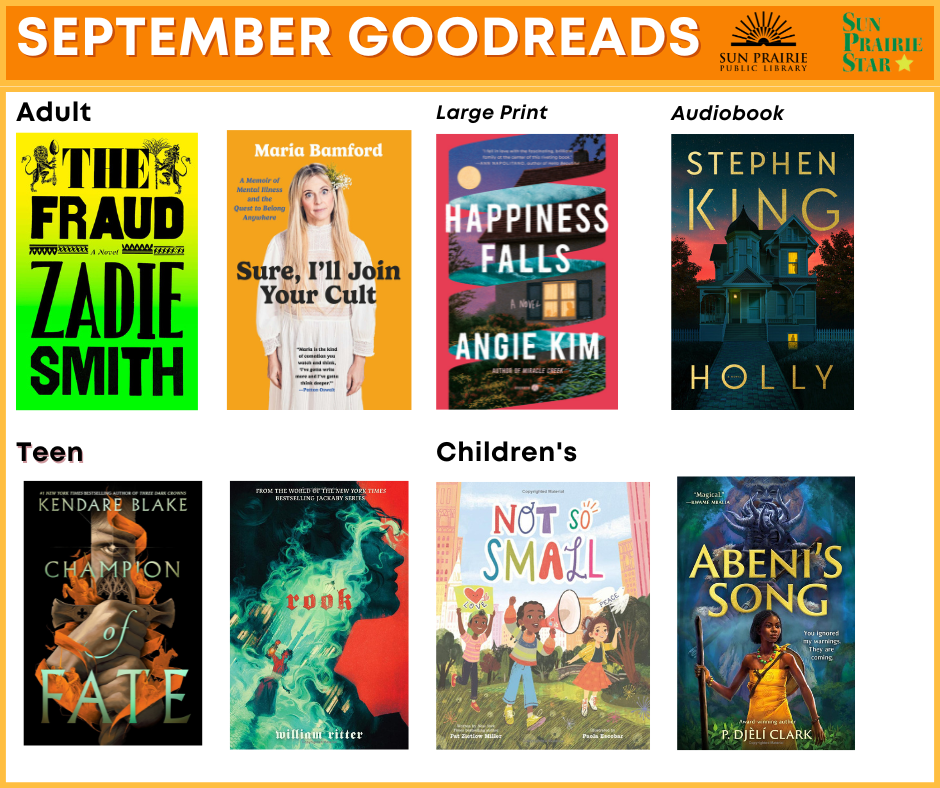 Fiction
"Vampires of El Norte" by Isabel Canas
As the daughter of a rancher in 1840s Mexico, Nena knows a thing or two about monsters—her home has long been threatened by tensions with Anglo settlers from the north. But something more sinister lurks near the ranch at night, something that drains men of their blood and leaves them for dead.  Something that once attacked Nena nine years ago.
Believing Nena dead, Néstor has been on the run from his grief ever since, moving from ranch to ranch working as a vaquero. But no amount of drink can dispel the night terrors of sharp teeth; no woman can erase his childhood sweetheart from his mind.
When the United States invades Mexico in 1846, the two are brought abruptly together on the road to war: Nena as a curandera, a healer striving to prove her worth to her father so that he does not marry her off to a stranger, and Néstor as a member of the auxiliary cavalry of ranchers and vaqueros. But the shock of their reunion—and Nena's rage at Néstor for seemingly abandoning her long ago—is quickly overshadowed by the appearance of a nightmare made flesh.  And unless Nena and Néstor work through their past and face the future together, neither will survive to see the dawn. —from the publisher
SEE LESS
It is 1873. Mrs. Eliza Touchet is the Scottish housekeeper—and cousin by marriage—of a once-famous novelist, now in decline, William Ainsworth, with whom she has lived for thirty years.
Mrs. Touchet is a woman of many interests: literature, justice, abolitionism, class, her cousin, his wives, this life and the next. But she is also sceptical. She suspects her cousin of having no talent; his successful friend, Mr. Charles Dickens, of being a bully and a moralist; and England of being a land of facades, in which nothing is quite what it seems.
Andrew Bogle, meanwhile, grew up enslaved on the Hope Plantation, Jamaica. He knows every lump of sugar comes at a human cost. That the rich deceive the poor. And that people are more easily manipulated than they realize. When Bogle finds himself in London, star witness in a celebrated case of imposture, he knows his future depends on telling the right story.
The "Tichborne Trial"—wherein a lower-class butcher from Australia claimed he was in fact the rightful heir of a sizable estate and title—captivates Mrs. Touchet and all of England. Is Sir Roger Tichborne really who he says he is? Or is he a fraud? Mrs. Touchet is a woman of the world. Mr. Bogle is no fool. But in a world of hypocrisy and self-deception, deciding what is real proves a complicated task. —from the publisher   Also available in large print
Nonfiction
"When Crack Was King" by Donovan X. Ramsey
The crack epidemic of the 1980s and 1990s is arguably the least examined crisis in American history. Beginning with the myths inspired by Reagan's war on drugs, journalist Donovan X. Ramsey's exacting analysis traces the path from the last triumphs of the Civil Rights Movement to the devastating realities we live with today: a racist criminal justice system, continued mass incarceration and gentrification, and increased police brutality.
"When Crack Was King" follows four individuals and gives us a startling portrait of crack's destruction and devastating legacy: Elgin Swift, an archetype of American industry and ambition and the son of a crack-addicted father who turned their home into a "crack house"; Lennie Woodley, a former crack addict and sex worker; Kurt Schmoke, the longtime mayor of Baltimore and an early advocate of decriminalization; and Shawn McCray, community activist, basketball prodigy, and a founding member of the Zoo Crew, Newark's most legendary group of drug traffickers.
Weaving together riveting research with the voices of survivors, "When Crack Was King" is a crucial reevaluation of the era and a powerful argument for providing historically violated communities with the resources they deserve. —from the publisher
SEE LESS
"Sure I'll Join Your Cult" by Maria Bamford
Maria Bamford is a comedian's comedian (an outsider among outsiders) and has forever fought to find a place to belong. From struggling with an eating disorder as a child of the 1980s, to navigating a career in the arts (and medical debt and psychiatric institutionalization), she has tried just about every method possible to not only be a part of the world, but to want to be a part of it.
In Bamford's signature voice, "Sure, I'll Join Your Cult", brings us on a quest to participate in something. With sincerity and transparency, she recounts every anonymous fellowship she has joined (including but not limited to: Debtors Anonymous, Sex and Love Addicts Anonymous, and Overeaters Anonymous), every hypomanic episode (from worrying about selling out under capitalism to enforcing union rules on her Netflix TV show set to protect her health), and every easy 1-to-3-step recipe for fudge in between.
Singular and inimitable, Bamford's memoir explores what it means to keep going, and to be a member of society (or any group she's invited to) despite not being very good at it. In turn, she hopes to transform isolating experiences into comedy that will make you feel less alone (without turning into a cult following). —from the publisher   Also available on audio CD
Large Print
"Happiness Falls" by Angie Kim
"We didn't call the police right away." Those are the electric first words of this extraordinary novel about a biracial Korean American family in Virginia whose lives are upended when their beloved father and husband goes missing.
Mia, the irreverent, hyper analytical twenty-year-old daughter, has an explanation for everything—which is why she isn't initially concerned when her father and younger brother Eugene don't return from a walk in a nearby park. They must have lost their phone. Or stopped for an errand somewhere. But by the time Mia's brother runs through the front door bloody and alone, it becomes clear that the father in this tight-knit family is missing and the only witness is Eugene, who has the rare genetic condition Angelman syndrome and cannot speak.
What follows is both a ticking-clock investigation into the whereabouts of a father and an emotionally rich portrait of a family whose most personal secrets just may be at the heart of his disappearance. Full of shocking twists and fascinating questions of love, language, and human connection, Happiness Falls is a mystery, a family drama, and a novel of profound philosophical inquiry. With all the powerful storytelling she brought to her award-winning debut, "Miracle Creek", Angie Kim turns the missing-person story into something wholly original, creating an indelible tale of a family who must go to remarkable lengths to truly understand one another. —from the publisher  "We didn't call the police right away." Those are the electric first words of this extraordinary novel about a biracial Korean American family in Virginia whose lives are upended when their beloved father and husband goes missing.
SEE LESS
"The Underworld" by Susan Casey
For all of human history, the deep ocean has been a source of wonder and terror, an unknown realm that evoked a singular, compelling question: What's down there? Unable to answer this for centuries, people believed the deep was a sinister realm of fiendish creatures and deadly peril. But now, cutting-edge technologies allow scientists and explorers to dive miles beneath the surface, and we are beginning to understand this strange and exotic underworld:  A place of soaring mountains, smoldering volcanoes, and valleys 7,000 feet deeper than Everest is high, where tectonic plates collide and separate, and extraordinary life forms operate under different rules. Far from a dark void, the deep is a vibrant realm that's home to pink gelatinous predators and shimmering creatures a hundred feet long and ancient animals with glass skeletons and sharks that live for half a millennium—among countless other marvels.
Susan Casey is our premiere chronicler of the aquatic world. For "The Underworld" she traversed the globe, joining scientists and explorers on dives to the deepest places on the planet, interviewing the marine geologists, marine biologists, and oceanographers who are searching for knowledge in this vast unseen realm. She takes us on a fascinating journey through the history of deep-sea exploration, from the myths and legends of the ancient world to storied shipwrecks we can now reach on the bottom, to the first intrepid bathysphere pilots, to the scientists who are just beginning to understand the mind-blowing complexity and ecological importance of the quadrillions of creatures who live in realms long thought to be devoid of life. —from the publisher
Audiobooks
Stephen King's "Holly" marks the triumphant return of beloved King character Holly Gibney. Readers have witnessed Holly's gradual transformation from a shy (but also brave and ethical) recluse in "Mr. Mercedes" to Bill Hodges's partner in "Finders Keepers" to a full-fledged, smart, and occasionally tough private detective in "The Outsider." In King's new novel, Holly is on her own, and up against a pair of unimaginably depraved and brilliantly disguised adversaries.
When Penny Dahl calls the Finders Keepers detective agency hoping for help locating her missing daughter, Holly is reluctant to accept the case. Her partner, Pete, has Covid. Her (very complicated) mother has just died. And Holly is meant to be on leave. But something in Penny Dahl's desperate voice makes it impossible for Holly to turn her down.
Mere blocks from where Bonnie Dahl disappeared live Professors Rodney and Emily Harris. They are the picture of bourgeois respectability: married octogenarians, devoted to each other, and semi-retired lifelong academics. But they are harboring an unholy secret in the basement of their well-kept, book-lined home, one that may be related to Bonnie's disappearance. And it will prove nearly impossible to discover what they are up to: they are savvy, they are patient, and they are ruthless.  Holly must summon all her formidable talents to outthink and outmaneuver the shockingly twisted professors in this chilling new masterwork from Stephen King. —from the publisher  Also available in large print
"But Will You Love Me Tomorrow" by Laura Flam
The girl group sound, made famous and unforgettable by acts like The Ronettes, The Shirelles, The Supremes, and The Vandellas, took over the airwaves by capturing the mixture of innocence and rebellion emblematic of America in the 1960s.  As songs like "Will You Love Me Tomorrow," "Then He Kissed Me," and "Be My Baby" rose to the top of the charts, girl groups cornered the burgeoning post-war market of teenage rock and roll fans, indelibly shaping the trajectory of pop music in the process. While the songs are essential to the American canon, many of the artists remain all but anonymous to most listeners.
With more than 100 subjects that made the music, from the singers to the songwriters, to their agents, managers, and sound engineers—and even to the present-day celebrities inspired by their lasting influence–"But Will You Love Me Tomorrow: An Oral History of 60s Girl Groups" tells a national coming-of-age story that gives particular insight into the experiences of the female singers and songwriters who created the movement. —from the publisher
Teen
"Champion of Fate" by Kendare Blake
Aristene are an order of mythical female warriors. Though heroes might be immortalized in legends, it's the Aristene who guide their paths to victory. They are the Heromakers.
Raised by the order after being orphaned, Reed grew up surrounded by her future sisters-in-arms and the incredible stories of their quests. She's been counting the days until her initiation, and now one final test stands in her way: shepherding her first hero to glory on the battlefield. Succeed, and her place in the order is secured. Fail, and she'll be cast out of the only home she's ever known. But Reed didn't count on Hestion, her assigned hero, being both infuriating and intriguing. When their strategic alliance turns into something more, it forces Reed to question the cost of becoming an Aristene. As battle looms and fate hangs in the balance, Reed must make an impossible choice: her hero or her order.—from the publisher
This standalone adventure set in the world of the New York Times bestselling Jackaby series brims with humor, heart, and—of course—a hefty dose of supernatural mayhem.
Abigail Rook never intended to be the mortal bridge between the human and supernatural world. But now, the power of the Sight--and all the chaos that comes with seeing the essential truth of everything, every human, fairy, werewolf, enchanted slip of paper, and municipal building, at all times--is hers alone. With this overwhelming new gift, she should be able to solve crimes and help New Fiddleham, New England find calm in its supernatural chaos. The only problem? She has no idea what she's doing. And New Fiddleham isn't waiting for Abigail to be ready. Local witches and other magical beings are going missing, as tensions between human and supernatural residents curdle into a hatred that could tear the city apart. Abigail's fiance, Charlie, works alongside her to unravel the magical disappearances, but as a shapeshifter, he's under threat as well. Then Abigail's parents appear, ready to take her back to England and marry her off to someone she's never met. Abigail has no choice but to follow her Sight, her instincts, and any clues she can find to track a culprit who is trying destroy everything she holds dear.—from the publisher.
Children's
"Not So Small" by Pat Zietlow Miller and Paola Escobar
This joyful book celebrates the many ways people can join together to become something bigger—an unstoppable force. Each and every one of us can use our voices to make a difference!
The lyrical text by New York Times bestselling author Pat Zietlow Miller is brought to life with vibrant illustrations by Paola Escobar. This stirring book will inspire readers of all ages.
A small voice can travel for miles.
Showing kindness.
Hope.
And love.
-- from HarperCollins
"Abeni's Song" by P. Djèlí Clark
What would you do if an evil Witch Priest attacked your village/town and took away your family and friends? Abeni is taken in by Asha, an old woman that lives in the forest nearby, who trains Abeni to protect herself before setting off to find her family and friends, as well as stop the Witch Priest from taking more children. Will Abeni be able to succeed in completing her mission even when others cross her path? –from Jenna, age 11