Image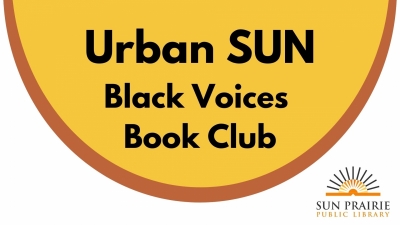 The Urban SUN: Black Voices Book Club meets on the fourth Sunday of the month at 3:00 pm via Zoom.
This book club, led by Donna Mackey and Marilyn Ruffin, explores contemporary and historical works by African American authors and promotes meaningful conversations about race. Open to all adults; please register for each discussion you plan to attend. Get ready to get uncomfortable and get real!
2022 Selections:

January 23

 

Image

Justyce McAllister is top of his class and set for the Ivy League—but none of that matters to the police officer who just put him in handcuffs. And despite leaving his rough neighborhood behind, he can't escape the scorn of his former peers or the ridicule of his new classmates. Justyce looks to the teachings of Dr. Martin Luther King Jr. for answers. But do they hold up anymore? He starts a journal to Dr. King to find out.  Then comes the day Justyce goes driving with his best friend, Manny, windows rolled down, music turned up—way up, sparking the fury of a white off-duty cop beside them. Words fly. Shots are fired. Justyce and Manny are caught in the crosshairs. In the media fallout, it's Justyce who is under attack.

February 27

Image

Rhine Fontaine is building the successful life he's always dreamed of-- one that depends upon him passing for White. But for the first time in years, he wishes he could steop out from behind the facade. The reason: Eddy Carmichael, the young woman he rescued in the desert. Outspoken, defiant, and beautiful, Eddy tempts Rhine in ways that could cost him everything... and the price seems worth paying.
Eddy owes her life to Rhine, but she won't risk her heart for him. As soon as she's saved enough money from her cooking, she'll leave this Nevada town and move to California. No matter how handsome he is, no matter how fiery the heat between them, Rhine will never be hers. Giving in for just one night might quench this longing. Or it might ignite an affair as reckless and irresistible as it is forbidden...

March 27

 

Image

Before John Glenn orbited the earth or Neil Armstrong walked on the moon, a group of dedicated female mathematicians known as "human computers" used pencils, slide rules and adding machines to calculate the numbers that would launch rockets, and astronauts, into space. Among these problem-solvers were a group of exceptionally talented African American women, originally relegated to teaching in segregrated public schools, then called into service during the labor shortages of WWII when America's aeronautics industry was in dire need of anyone who had the right stuff. Hidden Figures follows four African American women who participated in some of NASA's greatest successes over three decades.

For this discussion, Urban SUN participants are encouraged to read the book, or watch the movie, or both!

April 24

Image

This poetry collection captures the essence of the pianist and strong Black woman, Mary Lou Williams, in a poignant, moving, and expressive way.  This book presents the struggles and triumphs of Mary Lou Williams, and readers can feel the connection between the pianist and poet leap off the page.  The "conversations" between the Poet Fabu and Mary Lou provide a strong historical context of the type of wisdom that generations of Black women have engaged in, in an effort to navigate their way through the social, political, and economic obstacles that have attempted to silence their voices and negate their presence in the world.

May 22

Image

Moore's powerful debut novel reimagines the dramatic story of Liberia's early years through three unforgettable characters who share an uncommon bond. Gbessa, exiled from the West African village of Lai, is starved and left for dead, but still she survives. June Dey, raised on a plantation in Virginia, hides his unusual strength until a confrontation with the overseer forces him to flee. Norman Aragon, the child of a white British colonizer and a Maroon slave from Jamaica, can fade from sight when the earth calls him. When the three meet in the settlement of Monrovia, their gifts help them salvage the tense relationship between the African American settlers and the indigenous tribes, as a new nation forms around them.

June 26

Image

The essential, sweeping story of Juneteenth's integral importance to American history, as told by a Pulitzer Prize-winning historian and Texas native. Interweaving American history, dramatic family chronicle, and searing episodes of memoir, Annette Gordon-Reed, the descendant of enslaved people brought to Texas in the 1850s, recounts the origins of Juneteenth and explores the legacies of the holiday that remain with us. 

July 24
August 28
September 25
October 23
November 27
No December meeting


Future titles to be announced. Please check back.
Please note: Currently all of our book groups are meeting virtually. If you would like to join an upcoming virtual book discussion, please find a book group on our Event Calendar, and complete the registration form for that session. Instructions on how to join that book discussion will then be emailed to you.
Book club selections are subject to change. Please call the library Information Desk at 608-825-0702 for the most current information.