Image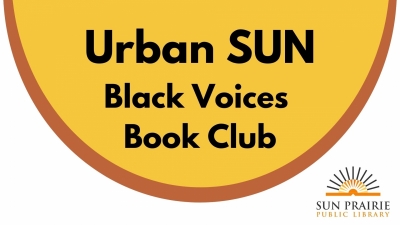 The Urban SUN: Black Voices Book Club meets on the fourth Sunday of the month at 4:00 pm via Zoom.
This book club, led by Donna Mackey and Marilyn Ruffin, explores contemporary and historical works by African American authors and promotes meaningful conversations about race. Open to all adults; please register for each discussion you plan to attend. Get ready to get uncomfortable and get real!
2023 Selections:

January 22

Image

Beginning in his own hometown of New Orleans, Clint Smith leads the reader through an unforgettable tour of monuments and landmarks-those that are honest about the past and those that are not-that offer an intergenerational story of how slavery has been central in shaping our nation's collective history, and ourselves. In a deeply researched and transporting exploration of the legacy of slavery and its imprint on centuries of American history, How the Word Is Passed illustrates how some of our country's most essential stories are hidden in plain view-whether in places we might drive by on our way to work, holidays such as Juneteenth, or entire neighborhoods—like downtown Manhattan—on which the brutal history of the trade in enslaved men, women and children has been deeply imprinted.

February 26

Image

Brooklynite Eva Mercy is a single mom and bestselling erotica writer, who is feeling pressed from all sides. Shane Hall is a reclusive, enigmatic, award-winning literary author who, to everyone's surprise, shows up in New York. When Shane and Eva meet unexpectedly at a literary event, sparks fly, raising not only their past buried traumas, but the eyebrows of New York's Black literati. What no one knows is that twenty years earlier, teenage Eva and Shane spent one crazy, torrid week madly in love. They may be pretending that everything is fine now, but they can't deny their chemistry - or the fact that they've been secretly writing to each other in their books ever since. Over the next seven days in the middle of a steamy Brooklyn summer, Eva and Shane reconnect, but Eva's not sure how she can trust the man who broke her heart, and she needs to get him out of New York so that her life can return to normal. But before Shane disappears again, there are a few questions she needs answered...

March 26

Image

How It Feels to Be Free takes an unprecedented look at the intersection of African American women artists, politics and entertainment and tells the story of how six trailblazing performers Lena Horne, Abbey Lincoln, Diahann Carroll, Nina Simone, Cicely Tyson and Pam Grier changed American culture through their films, fashion, music and politics.

April 23

Image

In present-day California, Eleanor Bennett's death leaves behind a puzzling inheritance for her two children, Byron and Benny: a black cake, made from a family recipe with a long history, and a voice recording. In her message, Eleanor shares a tumultuous story about a headstrong young swimmer who escapes her island home under suspicion of murder. The heartbreaking tale Eleanor unfolds, the secrets she still holds back, and the mystery of a long-lost child challenge everything the siblings thought they knew about their lineage and themselves. Can Byron and Benny reclaim their once-close relationship, piece together Eleanor's true history, and fulfill her final request to "share the black cake when the time is right"? Will their mother's revelations bring them back together or leave them feeling more lost than ever?

May 28

Image

In America, Mother = White.  That's what Nefertiti, a single African American woman, discovered when she decided she wanted to adopt a Black baby boy out of the foster care system. Eager to finally join the motherhood ranks, Nefertiti was shocked when people started asking her why she wanted to adopt a "crack baby" or said that she would never be able to raise a Black son on her own. She realized that American society saw motherhood through a white lens, and that there would be no easy understanding or acceptance of the kind of family she hoped to build.
Motherhood So White is the story of Nefertiti's fight to create the family she always knew she was meant to have and the story of motherhood that all American families need now.

June 25

Image

Black Ghost of Empire focuses on emancipation and how this opportunity to make right further codified the racial caste system-instead of obliterating it.To understand why the shadow of slavery still haunts society today, we must not only look at what slavery was, but also the unfinished way it ended. One may think of "emancipation" as a finale, leading to a new age of human rights and universal freedoms. But in reality, emancipations everywhere were incomplete. In Black Ghost of Empire, acclaimed historian and professor Kris Manjapra identifies five types of emancipation-explaining them in chronological order-along with the lasting impact these transitions had on formerly enslaved groups around the Atlantic.

July 23

Image

Ray McMillian loves playing the violin more than anything, and nothing will stop him from pursuing his dream of becoming a professional musician. Not his mother, who thinks he should get a real job, not the fact that he can't afford a high-caliber violin, not the racism inherent in the classical music world. And when he makes the startling discovery that his great-grandfather's fiddle is actually a priceless Stradivarius, his star begins to rise. Then with the international Tchaikovsky Competition—the Olympics of classical music—fast approaching, his prized family heirloom is stolen. Ray is determined to get it back. But now his family and the descendants of the man who once enslaved Ray's great-grandfather are each claiming that the violin belongs to them. With the odds stacked against him and the pressure mounting, will Ray ever see his beloved violin again?

August 27

Image

In 1927, Hurston went to Plateau, Alabama to interview eighty-six-year-old Cudjo Lewis. Of the millions of men, women, and children transported from Africa to America as slaves, Cudjo was then the only person alive to tell the story of this integral part of the nation's history.  In 1931, Hurston returned to Plateau. Spending more than three months there, she talked in depth with Cudjo about the details of his life. During those weeks, the young writer and the elderly formerly enslaved man ate peaches and watermelon that grew in the backyard and talked about Cudjo's past—memories from his childhood in Africa, the horrors of being captured and held in a barracoon for selection by American slavers, the harrowing experience of the Middle Passage packed with more than 100 other souls aboard the Clotilda, and the years he spent in slavery until the end of the Civil War.

September 24

Image

Having conversations about race is uncomfortable. But for progress between individuals (and our communities) to happen, we need to be able to speak openly and honestly. Podcast hosts of The Kinswomen  Yseult and Hannah use their own friendship and experiences from different racial backgrounds to offer guidance on navigating these layered conversations.
In Real Friends Talk About Race , the duo share their two perspectives on the ways in which culture, history, and white supremacy have prevented us from having the skills to build trust and healthy relationships across race. Yseult and Hannah approach these topics with love and candor—calling readers in (not out ) to confront hard realities and their own internalized biases, while also sharing prescriptive advice, encouragement, and a sense of community.

October 22

Image

An ode to Black girlhood and adolescence as seen through Kenyatta Bernice (KB's) eyes, What the Fireflies Knew follows KB after her father dies of an overdose and the debts incurred from his addiction cause the loss of the family home in Detroit. Soon thereafter, KB and her teenage sister, Nia, are sent by their overwhelmed mother to live with their estranged grandfather in Lansing, Michigan. Over the course of a single sweltering summer, KB attempts to navigate a world that has turned upside down.
Please note: Currently this book group is meeting virtually. If you would like to join an upcoming virtual book discussion, please find a book group on our Event Calendar, and complete the registration form for that session. Instructions on how to join that book discussion will then be emailed to you.
Book club selections are subject to change. Please call the library Information Desk at 608-825-0702 for the most current information.